UPVC Casement Doors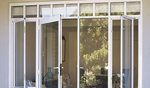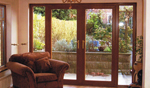 The casement doors work on inwards and outward opening mechanism. It opens inside or outside with the help of outer sash frame. The designs can vary due to the top hung, side hung and fixed. We have a wide range of casement doors that can be of different designs and patterns that vary because of the wind pressure, insulation etc.

Casement doors are like casement windows that helps operate the doors easily. It has same mechanism like windows that is outward and inward opening.

Our UPVC casement doors and windows are available in different colors and designs that will surely adorn the home and surrounding.